All is forgiven… we're finally live in the iTunes App Store!
——————
We were supposed to have our new iPhone app available over a week ago now.
But for the last 48 hours it has been stuck in an iTunes status called "Processing for App Store". 
The new app has already been reviewed by Apple and 100% approved.  By all accounts it should be live, and this "processing" status should be just a flash and at most 1 to 2 hours.  We've called Apple Dev, emailed, lodged support tickets and done everything short of walking into their USA headquarters … no seems to be able to give a response other than "wait and see".
If we did customer support like this in WORK[etc], we would no longer have a business…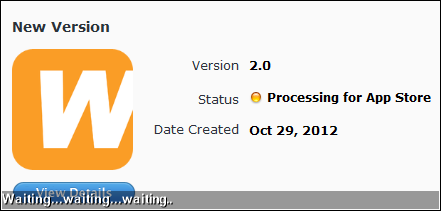 For everyone waiting on this, we have an email blast lined up and ready to fire as soon as we're live.  In the meantime there is always the available-right-now Android App for WORK[etc].