So, we are working on a progressive upgrade of all the WORK[etc] tools, something we've loosely been calling version 2.6 (although given the enormity of the changes, we should probably be calling it version 3.0!).
Some of these changes are creeping into the current release, particularly improvements to the user interface.  Last week I explained the new on-page create function that we needed to push through to the current version.
This week we have a new "expand advanced options" button.
WORK[etc] has already made a lot of options available, allowing our users maximum flexibility when it comes to creating things like projects and timesheets. However, if you're not using these options, they still display on set up screens, taking up valuable screen real estate and distracting you from the work at hand.
We now hide these "advanced options" by default. If you need to use them, simply click to show and hide. And the really cool thing is that WORK[etc] will remember your last, saved default. So if you always use Advanced Options, they will always show until you decide to collapse the screen.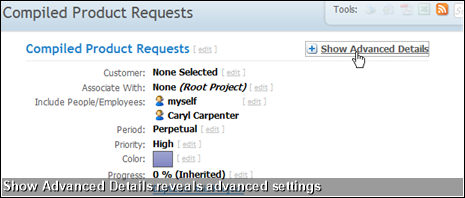 We have a bunch of other interface changes coming shortly, notably a re-designed sidebar that includes an awesome bookmark function. More on this over the next week.
Other WORK[etc] Updates
We've also released the following minor changes over the last month:
Address Types "Personal", and "Street" have been re-labeled back to their original/internal naming convention of "Home" and "Work". Thus we have 3 address types called Home/Work/Billing which is once again consistent with other addressbook software.
Projects, ToDos, Events and Support Cases now have an ability to be archived, even when Progress % is not complete. This is useful if you have a project which is stalled and you might want to disable it for a while, but you don't necessarily want to lose your Progress data on all of the sub-projects.
Businesses can also disable the default automatic archiving behaviour by simply switching it off under Settings > Projects Settings. This is useful if you want to leave projects active even when marked 100% complete, and only shut off everything at the very end.
"Unread Work" dash widget now shows objects for which you are a Owner or Member, rather than "Owner" only. This makes more sense, as member (but not owner) of a project you probably would like to see when someone commented on your project.
Fixed Tasks widget so it can show tasks assigned to you as a member with an option to enable/disable tasks you've assigned to others.
Subscribe to this blog to stay up to date with WORK[etc] improvements.