As we pick up momentum with our development schedule, the public release of the new calendar, timesheet, project management and help desk components is almost upon us.
So if you haven't done so already, I definitely recommend switching the beta view for your account to "on" and having a look around.  You can easily switch the beta on or off from the link at the bottom of the right hand panel: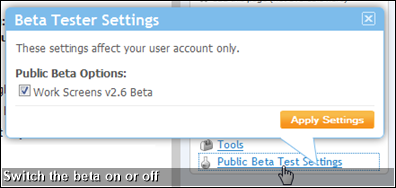 As a reminder take a look at the new wizardry here:
The beta we pushed out last Thursday also covers the help desk tool and already we're close to pushing out an updated beta based on the feedback received already (!).
Let's take a look at some of the new interface changes that are ready for testing now:
Above:  You can now quickly select multiple participants in a project.  Previously you needed to select, then save, each participant, one at a time.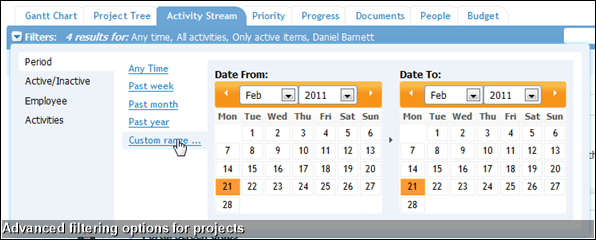 Above:  This is one of those features that aren't critical unless you have big, busy, complex projects, at which point it is a life-saver.  Advanced filtering options allow you create very specific views of your project.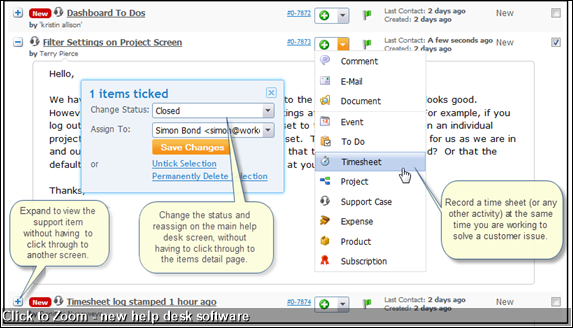 Above:  This new work screen for Customer Support allows you to do manage a case without having to click through to the full case detail.  You can also save more time by being able to record a timesheet from within any help desk screen.  Lots of people have been asking for this one!
We're Hiring.
Whenever possible, I look to our customers to hire in for positions and project work.  This works well for us as we don't have to spend so much effort training up someone from scratch, plus in a way it is kind of like giving back to our community.  Anyways, we have work right now for the following:
Customer Support Person.  Part time initially, moving to full time mid year and ideally located in Ireland or elsewhere in Europe so that we can take advantage of time zones.  Must be comfortable using screen-sharing software to help solve problems and provide short demo's.
Video/Screencast/Animator.  We need to finish our new promotional video as well as record a whole lot of screen casts of WORK[etc] in action.  This is project work, ready to go right now.
.Net/C# Developer.  Full time role, anywhere in the world.  Working with the team to make WORK[etc] better.
If you're interested, please send some information about yourself to support@ here.
New Site, New Subscription Offers.
We launched our new site around a fortnight back and have only received positive feedback.  I believe it helps take the WORK[etc] brand from the previous "hobby" type site to a more professional and business-focussed organization.
What you might have missed though is some of the new subscription bonuses we're making available to everyone:
Not-For-Profit, Charities etc.

  We can now offer a lifetime 30% discount to any business that can show us they're doing good in the community.  Just write into support@here and let us know your gig.

Reviewers, Bloggers etc

.  Simply write an honest review of WORK[etc] and publish it on your blog or website and get one month credited to your account as a thank you.  Simply write the review, publish it and contact support to get your credit.

Hard Times – Payment Holiday. 

Now this is only for customers who have been with us for more than 6 months, but if you are genuinely doing it tough we want to help out (in another lifetime I've been there too).  So, simply contact support, state your case and we'll credit your account with a 3 month payment holiday.

Pre-Pay and Save. 

Pre-pay for 12 months and get a bonus 2 months added to your account.
We now do training too.
When we launched the new site, we also launched our trial training product.  This is detailed training in WORK[etc], delivered via one-on-one screen sharing.
But the training we do is not just about using software.  Because WORK[etc] is a business management tool, training also helps you identify and better manage all the systems and processes that make up your business.
You can read more about training options here.