Starting this Thursday (January 7) we'll be progressively migrating all accounts to new and improved hardware and a faster network. Its not that we've had any issues with the current setup, its that we're planning for 2010 and beyond.
For those that are interested, we're moving to higher spec'd dedicated servers at Peer1, who run what they call Supernetwork(tm) with 16 Data Centres and 21 Points of Presence across the USA, Canada and into Europe. For our Australian customers the datacentre is just a skip across the pacific in California – and from my tests (in Sydney) so far, it is indistinguishable from any locally hosted service.
We also move from a 3 – 5 day backup routine to a daily backup of all customer accounts meaning that your business data is safer than ever.
At the same time, we're upgrading the WORK[etc] core from Windows 2003 server to the latest 2008 server and SQL server to the latest 2008 release. This will give us the performance and security overhead to continue to grow.
Bottom line is that this move will result in a faster experience for all customers, better overall security and data back up. Once the move is complete, we'll also be announcing more storage space for all customers.
What to expect other the next few days…
Simon has written a cool application that will automate the transfer of customer databases from the existing server to the new server and then perform a number of checks to ensure there are no issues.
This process takes about 10 minutes for each account and wherever possible, we'll be scheduling these for after midnight.
However, for us to know when your midnight is, you need to ensure you have the correct timezone set in your WORK[etc] Settings. Just go to Settings -> Logo, Language & Location and make sure have your local timezone set.
If by chance you do try to log into WORK[etc] whilst the transfer is active, you'll see a simple explanation screen and a suggestion to go for a coffee 🙂
The only problem we foresee is if your browser and/or computer has cached the IP of your WORK[etc] account and needs to be refreshed. We've written some code to detect if this has happened and instructions on how to refresh to the new IP.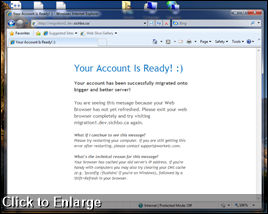 Here's what this looks like:
What to expect over the next few days….
The outcome we're aiming for here is that no one notices anything and Monday ticks around with everyone upgrade.
BTW – Happy new year and best wishes for 2010!
Dan