**Update – Now Live**
We are close (as in this coming week) to making available the new web forms tool for WORK[etc].
Web forms are a critical part of WORK[etc], enabling a link between your web site, getting information into WORK[etc] and then using that information to automatically create a sales lead, a support case, a new contact or capture information and view in a report.
What's Changed?
A lot of the changes we've implimented have come directly from the feature suggestion forum.  In summary:
Forms now give you the option of disabling customer look up (requiring your customer to log into your form) and disabling auto-update of customer records
Re-arranging questions on your form is now a simple matter of dragging and dropping each individual element
Javascript can now be used to insert the form in your web site
Documents can now be uploaded via a web form

And a whole lot of other suggestions
Previews
Here are some previews – click the image to view full size image with notes.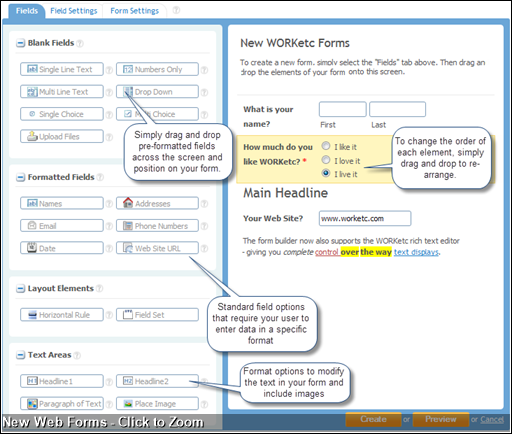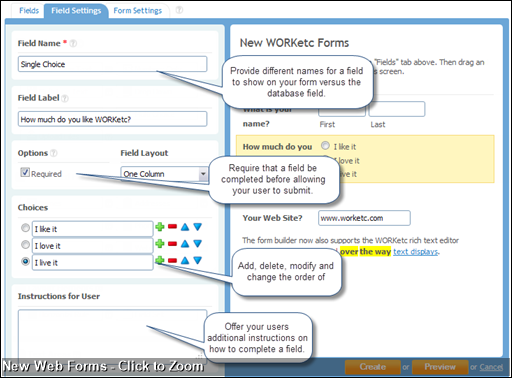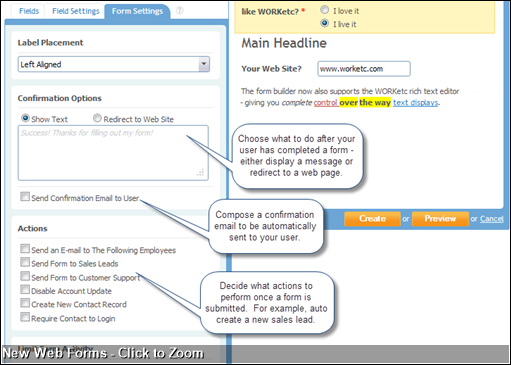 I'll update this post when we push it through to beta release; 90% likely before the end of the week.
Where to now…
In order to complete and roll out the new Sales & CRM modules, we needed to complete 3 core modules:
So this means we can really push on with the new sales and CRM modules including customizable table display, sales workflows (including drip email marketing), new sales leads views and better management of sales leads.
Were also a good way into the Outlook Plugin.  This basically works the same way as our Gmail Plugin, but inside of Outlook.  I'll post some screen shots shortly.
And we're about to knock off the Xero integration and Quicken integration with development due to start October 10th and completed inside of 3 – 4 weeks.
Customer Support / Product Specialists
I'm hiring more customer support people, preferably in the East Coast of USA timezone.  Email me (daniel at worketc) if you're interested – I do have a preference for hiring existing WORK[etc] users!