From today, all accounts will be able to access the new contacts module, bookmarks tool and streamlined interface.
To switch between the old and the new, simply click the new link in the top right hand corner of your screen: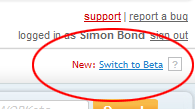 Once we've worked through any bugs (hopefully none!) we'll create a walk-through video highlighting all the new cool stuff. But for now bullet points….
Interface:
Any pages on which you do something can now be bookmarked. This means that the page is always accessible from the right hand panel.
This right hand panel can now be collapsed to make more horizontal space for your work.
The top menu bar is slimmer and the WORK[etc] branding less intrusive
The top menu bar is always clickable, reducing the number of clicks needed to get around.
Most pages have breadcrumb navigation to help get a feel of where you are in the application and to easily let you bounce around pages.
A lot of functionality is now available in a floating window, rather than loading a new page.
Contacts:

Contact directory is now presented in a table format for better presentation and sorting ability.
Any contact row can be expanded to quickly access frequent contact details
Contact detail screen now requires much less scrolling, making better use of the screen space available
We bring to the forefront the contact history tool. This is actually one of the most powerful features of WORK[etc], but until now we've kind of hidden away ….
Contact History Tool:
The contact history tool lets you view your businesses entire interaction with a customer. More on this shortly….