Daniel Barnett [2012-11-09]We are now taking beta registrations for the Outlook CRM Add-in! 
UPDATED:  This is now out of Beta and full available with every account.
And yes, it is a bit late, but I made a last minute and then another last-last minute decision around adding extra functionality and streamlining.  It is better for it to be late and totally awesome, than for it to be on time and just "meh" – or worse, for it to just not work (good news though, it does work and work really well)
We also put a whole lot of additional testing into this release as Outlook isn't the most hospitable of environments to develop for.
The core idea behind the Outlook connector is to get important emails into WORK[etc] with just a few clicks:
Click any email from Outlook and attach to a contact (company, person or employee)
Attach any email to a particular project, sales lead, support case, task, event or expense
Create a new activity, such as a project, from an email, without leaving Outlook.
If you've used the WORK[etc] Gmail CRM widget, then you'll already be familiar with how much of a timesaver a direct link from email is.
Simply right-click on any email to pull up the WORK[etc] menu.
The most obvious task is to simply attach an email to an existing WORK[etc] Activity.  In the example below we've attached an email about our new backup server, to the project we used to scope out server selection and deployment.
From a business perspective we make sure that the project is fully up to date which of course is a huge benefit for issues such as businesses continuity.  Also notice that we use the same Activity Picker from WORK[etc], keeping the user-experience consistent.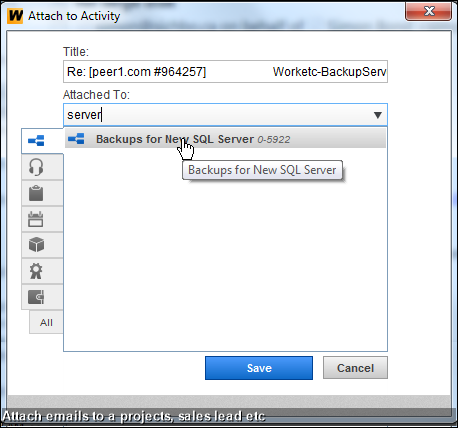 It is an equally simple matter to attach an email straight to a contact.  By doing this we start to create a richer database and customer intelligence: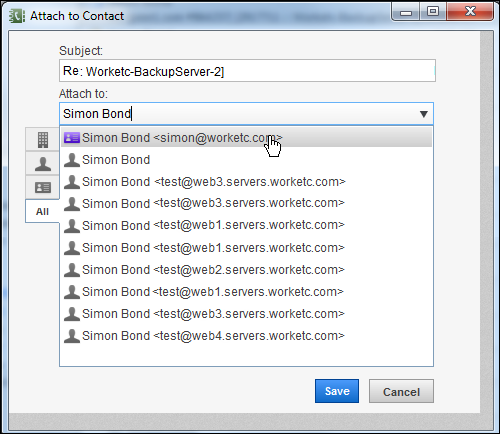 The connector automatically looks up your WORK[etc] contacts and attempts match a contact based on the email address.  If no match is found, you can simply search for a contact or create a new contact on the fly: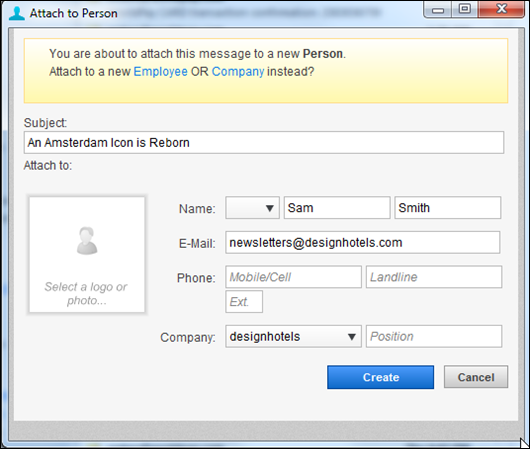 The last part of this release is the ability to create a new WORK[etc] activity on-the-fly and attach that email to the new activity.  In the example below we're creating a new sales lead from an email.  As you can see, all the basic and advance lead options are available in the dialog box, just the same as if you were doing this inside of WORK[etc]:
Syncing Contacts and Calendars
Syncing continues to be a huge concern for us. Part of this concern is that when syncing goes wrong the results can be disasterous.  Think about missing that all important meeting or disapearing sales leads all because of a conflict between sources, employees and timezones.
The other challenge is of course privacy.  We need to make sure employees have the freedom to not sync up personal items and that employers have the confidence to limit what is sycned down to mobile devices.  It is hugely complex.
So, unfortunately syncing contacts and calendars is not part of this beta release.  We'll continue testing syncing over the next few weeks and then release it as a second beta.  The Outlook Add-in has been designed to auto-update so adding in this next stage to the beta should be fairly painless.
Downloading the Installer
To get hold of the Outlook Installer, simply complete the form below.  We'll then automatically email you the download link.
Please note that you need Windows Vista and above and Outlook 2007 and above; although we recommend upgrading to Windows 7 and Outlook 2010.
Also, as with all betas, we can only support them through the forums.  This allows us to spot patterns and prioritise issues across the entire user base.
We've worked hard on this release – help keep us motivated by Tweeting, Plusonen' or Liking the release below: