Now available for beta-testing is the much awaited, automatic two-way sync between WORK[etc] Contacts and Gmail (Google) Contacts.
This release is the very first step in WORK[etc] 's solution to the contact synch dilemma.  How exactly do you sync contacts reliably between multiple people in the same company, all using multiple devices, multiple software tools and working across different timezones?
As you can surely imagine, the possibility of total chaos is very real.  A single, incorrect contact has the potential to spread through an entire organization like a virus; from device to device, person to person.
We've approached this problem by creating WORK[etc] as the central location for all contact syncs and then built in a "turn back time" function that allows you to revert to an older version of that contact.
You can then automate which contacts to use live in WORK[etc] by turning on a number filters such as "always use the most recent contact" or "always use contact changes from Salesforce".
The first beta release is Google Contact Sync only.  Then once we're happy with that, we'll release the Outlook Sync (via our Outlook CRM Add-in), then Salesforce and so on.
Using the tool is straightforward: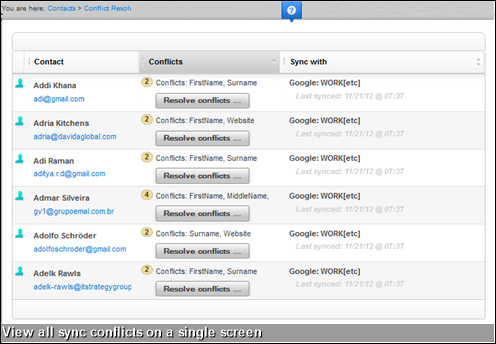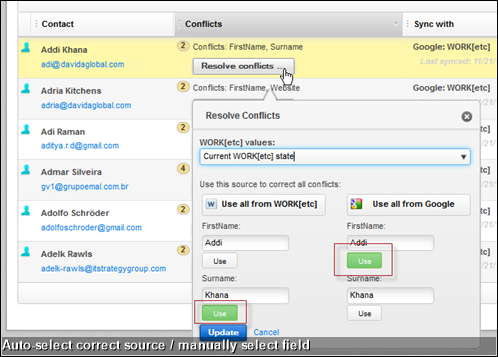 Get it now…
We have a handful of customers using it right now and will make available maybe 8 slots per day.  This is intentionally a very slow rollout as it is such an important feature.
If you want to be a part of this, tweet, FB or plusOne us below and then fill in this form to secure your place on the list.