Mobile Update
Possibly by the end of next week we'll be making available the first mobile beta – it will be generic mobile web interface and include contacts, calendar, timesheets and ToDo's.  As a reminder, this is our build strategy:
Release

the first 4 modules in beta

as mobile optimized CSS.  This means that whatever flavor phone you have, be it iPhone, Android, Blackberry, Windows 7 mobile you will be able to efficiently use WORK[etc] on your mobile.
Whilst the first 4 modules are in beta, we'll be developing the remaining 4 modules plus settings.
Once the entire mobile CSS version is in beta, we'll be building native iOS and native Android apps through to beta release
As android/iOS is in beta, we'll then double back and build  the mobile CSS version through to release
And then finish by pushing the native apps through to release.  We may then start work on a Blackberry native app – just not sure yet – depends on demand.
Here are some developing screen shots:
Over the next 2 weeks:
Sunrise over Bondi Beach @ 6:48am, 7:15am, 7:43am
WORK[etc] is very much a Micro Multinational – our customers, partners and staff all work remotely, all over the world.
And although we do have a North American focus with Geoff and Kevin residing in LA and Chicago respectively and maybe 80% of our customers in the States, I do spend most of my year in Sydney and specifically next to Bondi Beach.
This is how Bondi woke up today: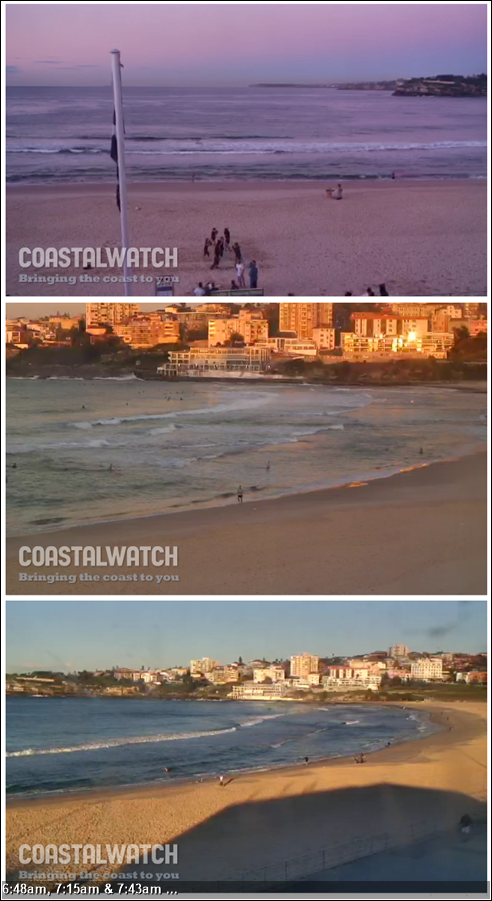 Lots to do…